with Writing Coach and Author,
Kathrin Lake
Annually: Middle weeks in January
outside Manzanillo, Mexico.
Annually Approximately Mid January –  1 week retreats (7-day)
JOIN US FOR A CREATIVE ADVENTURE!
TESTIMONIALS
"I got my passion for writing back and what I accomplished is both valuable and sellable … Kathrin as a facilitator is extraordinary and for me personally gave me exactly what I was looking for. …the group was great, and we contributed and  supported each other (so important)!"
Read more testimonials below…
"The group was great, and we contributed and  supported each other (so important !). The town was great and rustic. Loved the people. Loved the food. Loved the weather.  Kathrin as a facilitator is extraordinary and for me personally gave me exactly what I was looking for.  Confidence… Coaching on how to have my dialogue and the "gory" scenes work.  Also great coaching on next steps for publishing.  The retreat was  basically everything I wanted and more!" 
– Ellen Chauvet, When Darkness Falls
"The town is a really good choice for the retreat. The timing – mid Feb – worked well, too, and I appreciate the flexibility of being able to attend for just one week but stay longer. The accommodation was perfect, and you really gave a lot of attention to detail. I finished a novel, and already have the first chapters and synopsis agent-ready! So, the retreat worked for me. I would never have finished the 
novel without the kind of support we had – I could write all day, then meet up with people, so I never got lonely!"
 – Julie H (published author)
"I really enjoyed the whole experience.  Being a part of a group of writers who share a common goal was a valuable experience that yielded new contacts and connections that I treasure.  To me, the town was a little scruffy, but felt safe and comfortable fairly soon after arrival and seemed a good choice for such an event, especially because of the familiarity and friendships.  Kathrin and Jim were great hosts, warm and personable, offering suggestions for activities and creating a bond between the participants by providing opportunities for the group to socialize together while allowing freedom for individual options.  As a facilitator, Kathrin was insightful, and helpful, and kept the classes interesting."   – Jacquelyn Johnston
"I thought the town was a friendly place, and I felt completely safe there, even at night.  I also appreciated the apartment being so central. Kathrin's guidance was extremely helpful, especially in the areas of character development.  Asking me what my characters were like made me realize they needed more meat on their bones.  I enjoyed the writing exercises in our class too. Jim and Kathrin were excellent hosts.  ….Thank you for the delicious meals you prepared for us and the recommendations you gave for restaurants (Mexico Lindo's was my favourite)." 
– Kelly Madden
The Retreats Include:
Group Classes in writing and publishing
One-on-one Coaching in writing and publishing
Accommodation Choices
Social Events and networking with writers
Readings
Guided fun events (everyone goes on the boat tour!)
At least one evening meal and breakfast snacks with morning classes
Please go to vancouverschoolofwriting.com to see the current prices or put a refundable deposit down now – see below
Accommodation is chosen in advance from economy apartments and rooms starting at $35/night, to mid-range suites in or beside the retreat house, and hotel service. Participants can join us early and stay beyond retreat dates as they wish. Flights to Manzanillo and ground travel to the retreat house and accommodations are arranged by the participants (many use their points).
Writing Retreat in Mexico — Reservation
$200 deposit Reserves Your Accommodation and spot at the early bird price. Fully refundable up to 30 days before the retreat. Balance due by December 15th for January retreat and January 2nd for February retreat. More questions? Call 604-564-4444 and we will return your call promptly.

"Every Winter, I take people on a retreat to my beautiful small town in Mexico to show them how to start to take their dream out of the box and write their book."  – Kathrin Lake
Please request our information or e-brochure outlining a schedule, a typical day, and other details by emailing us at registration@vancouverschoolofwriting.com  and put "Retreats" in the subject line, adding a contact phone number is also appreciated.
OR Phone: 604-564-4444 and we will return your call promptly.
Benefits
You will be writing and be able to get your project well on its way to completion
You will be taught great techniques
You will learn about the latest in publishing and how to be successful in the new Amazon age of publishing
You will gain new ways of thinking to help you through blocks
You will have fresh material that excites you
You will get clarity and organization
You will be shown how to and share 

your stories 

through an impactful story format
You will get coaching on your book, character development, etc.
You will have a plan
You will be suffused with the beauty of Mexico
You will share fearlessly and proudly
Assured Accommodation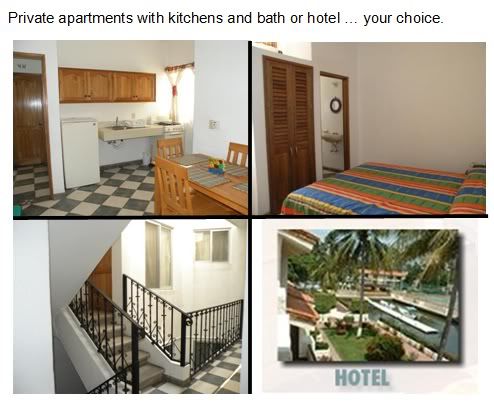 Apartments
WAS $55 / night NOW $35 / night
If you don't want a private apartment and want to upgrade, more expensive and full service hotel accommodation is readily available with pool and all usual amenities.
Airfare
We recommend you use your points to get best values on a return flight to Manzanillo. The retreat is in a coastal town to the north of the airport that is a taxi ride away. For best values without points, try selloffvacations.com (go to discount airfares tab), Alaska Airlines, or Air Transat or for Canadians redtag.ca.
Food
Some evening meals will be provided given at the Retreat House and snacking food and refreshments during classes. Other evening meals and readings are enjoyed at the many excellent restaurant choices around the corner. We prefer to move the evening meal around and you can also have the fun of discovering your own favorites within a comfortable walking distance. The apartments have kitchenettes allowing those who want to cook for themselves to do so. In Mexico, food at restaurants is generally much cheaper and there are no taxes. For evening meals we may have some reservations and discounted group rates for a full meal and drinks, like at our final farewell dinner. At restaurants, you should allow for hearty breakfasts to cost = $2-$5, lunch = $3-$6 and dinner = $8-$15. Allow for street vendor tacos which are hot and fresh and you get 4 for about $2.
$200 deposit for Annual Mexico Writing Retreat in January or February.
Reserves your accommodation and spot at the early bird price.  Balance due by January 2nd for February retreat. More questions? Call 778-300-5152 and we will return your call promptly.
Other Opportunities:
Boat, Fishing, Snorkeling or other Tours

Shopping! Great arts and crafts! Weekly open air markets!

Beach is free and you can walk to the next town on it in about about 45 minutes

Booze is cheap and bars are relaxed

Clubs and bars often have live music, no cover charge unless a charity event

The infamous Mexican Drag Queen Show at "Bar Siboney"

Taxis to neighboring towns are inexpensive

See the crocodile sanctuary one hour away in another town via taxi